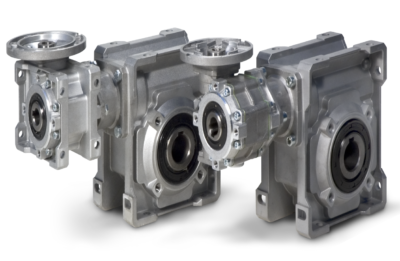 The combination of two worm gearboxes provides very low efficiency, however the fact that substantial reduction in speed can be obtained in an extremely reduced space makes this solution very interesting and sometimes irreplaceable.
Combined worm gearboxes are available in series: KX, XX and KK. The KX and KK series are available for IEC version only. The XX series is available in the XXA version with shaft and in two versions with motor coupling: XXC (compact) and XXF (with bell and joint). The hollow shaft is supplied as standard.
A broad range of accessories is available: second input, tapered roller bearings on the worm wheel, output flange, single or double extended output shaft, torque limiter with through hollow shaft, torque arm.